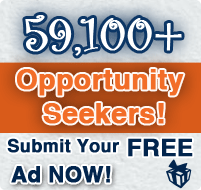 Can safe-lists make the difference

Well that's a good question and here's the answer…depends…how dedicated you are at placing ads and sending your offers on a regular schedule.
You need to constantly sending your offer. Think about this… when you are watching TV and let's say it's a football game or baseball or whatever, do you see an ad for McDonald's or a Ford truck ad at least 3-6 times during the game? ..Yup and do we already know that they sell hamburgers at McDonald's or sell trucks at Ford…So why do they spend millions of dollars advertising to us who already know that they exists?
Because we need to see it over and over to take action…to remind us that we need their product.
That's the power of suggestion.
Okay a quality safe-list will work the same same way and keep you in the game.
How do Safe-lists work
Liked minded people like you and I join to advertise our product/offer in a safe way to each other in a hope that the person reading joins or buy the offer.
Here the kicker… most of the time the emails aren't even read by members and that's ok because people that are searching for something WILL find your offer when the timing is right for that person.
It's a numbers game. You need to be very diligent in sending to safe-lists as this does two things.
 It exposes your offer and other members see you busy working and subconsciously they wonder how you are doing, then one day they quit mentally at what their doing and accept your offer.
 Seen enough times like ads on TV will make them go ahead and read your offer.
Persistence is everything, you must send if you are wanting to be successful.
Join and then what
You must get good at writing an ad and as you may think reading this article I can't write so good…well I have done allot of emails and ads etc… and I know when I started I was not that good and I'm still learning but, I think you get better as time goes on. It must because proof tells me so cause you are reading this right now…Right LOL
Quality Safe-list are you best choice
I've put together one's I use that I'm an affiliate of and here you will see my affiliate link…please notice that my username is the same (where possible)f or these list and I did that on purpose to brand myself in the link
Herculist.com                over 80,000 members
AdTactics                                    35,000 members
FreeSafeList Mailer              46,700
Tools for sending to Safe-lists
This is a huge time saver the Safe-List Genie  makes sending and reading emails a must have tool in your business.
How to use Safe-lists
Once you join simply send your offer to the other members, which in turn they send back to you through the safe-list site. Be sure to join with a gmail.com email setup two one for the list you receive emails from because as you see the members count above you WILL get a lot of emails…but don't let that scare you as after you read them the Safe-list Genie deletes them automatically…see why it's a must have?
In closing with this article the question do Safelists work…Yes as long as you use them properly.
Ross and Sharon